Introducing Hilts Molds new line of Powder Coat Paints from Pro Tec!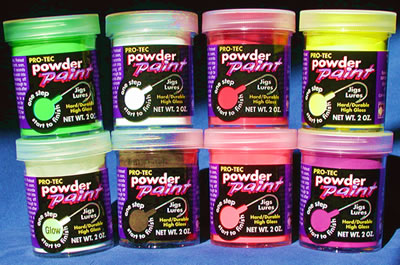 Top L-R: Bright Green, White, Red, Chartreuse Yellow
Bottom L-R: Glow-in-Dark, Black, Flame Red, Purple
Pro Tec Powder Coating products allow anyone to make brilliant, super-durable, high-gloss lures in less than 10 seconds! Simply heat the lure over any flame (lighter, torch, etc.). 1/4oz jighead requires 5-6 seconds (excessive heat will cause powder to smoke or bubble). Swish the hot lure into the powder coat. You'll be amazed as you watch it gloss over before your eyes! Colors can be recoated or changed any time. For extreme durability, preheat your oven to 350 degrees, hang & bake lures for approximately 20 minutes.
Features:
Easy to apply
One coat- no primer or basecoat required
Paints 100's of lures (approx. 500 1/4oz jigs)
No stirring or thinning
Instant drying
Paint never dries out
Pro-Tec Powder Paints are the perfect way to finish your Hilts Molds fishing tackle. To purchase your Powder Coat Paint, click on the PayPal "Add to Cart" button below to buy online, or you can download our catalog and order either via US mail or by telephone!